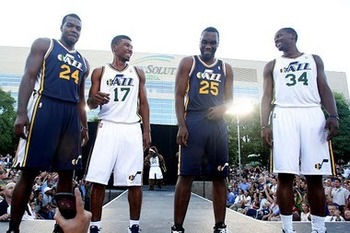 Another perfect preseason. That's right. ANOTHER. The 1976-1977 New Orleans Jazz went a perfect 4-0 in the preseason. Is this year's team destined for greatness? That previously perfect New Orleans Jazz team went on to a dominant 35-47. So maybe not. Still, there is plenty of reason for the wild optimism spreading throughout Jazz land.
The Carlos Boozer regime had grown stale. The Jazz had clearly reached a plateau with their current lineup. As long as Carlos Boozer was the power forward of the Jazz, the Jazz would be a solid playoff team that would never be able to beat the Los Angeles Lakers. Many of the other players on the roster (Ronnie Brewer, Kyle Korver) were nice players, but undoubtedly one-dimensional. The already surly Deron Williams was getting grumpier by the day. The team needed to mix things up.
And management did. In spades. Many of the new players have made favorable impressions on Jazz fans on and off the court. However, this does not mean that this team is without valid question marks. We have no idea how all of these pieces will fit together was teams start scouting the Jazz. Nor do we know how well various players will accept their role once the team starts playing for keeps. The team will also remain without Mehmet "Mr. Big" Okur for the forseeable future. Once he returns, the role of many of the Jazz's front court players will change drastically. Transitions like those are never without major bumps in the road.
All we know for sure is that it is going to be an exciting, different, and must watch season. So here now is the 2010-2011 Utah Jazz player by player preview:
WELCOME BACK
Deron Williams
- The Godfather. The best PG in the league. No player in the NBA hates reporters more. He is going to be great and grumpy all season. And I love him. I love his musk. I want to eat breakfast with him. He is going to be an all-star again. If the Jazz are a top team in the West is going to make first team All-NBA this year. Book it.

CJ Miles - On Bill Simmons' NBA preview
episode of his
podcast
, he called CJ Miles a "crater" sized hole in the Utah Jazz. People who watched CJ during last seasons post-season disagree. All signs point to this season being THE season. The season in which CJ fulfills his destiny of becoming a legitimate NBA scorer. The only thing I worry about with CJ is going to be how does he perform without Deron on the court? Last season CJ played almost exclusively alongside Deron. This season he is going to be playing with Ronnie Price or Earl Watson as the point guard. I am not sure if CJ is ready to become a creator for himself and others. I fear with Jazz's second unit he is going to revert back to being more of a spot up three point shooter.
Mehmet "Monet" Okur
- Poor Memo. He has been one of the healthiest Jazz players of this era. He seems really bummed about not playing. We wont see him until December at the earliest. By that time the Jazz will probably be in some form of a rhythm and his return will no doubt throw a wrench in the situation. This season will not be Memo's finest hour. However, he will be crucial if the Jazz face the Lakers in the postseason for the 56th straight year.
Paul Millsap
- Paul did it. He finally rid himself of Carlos Boozer to take what he felt he deserved. The starting PF spot. However, I fear for Paul this year. Watching the preseason, he seems to be the one guy on the team out of rhythm. He doesn't look comfortable in the offense. He looks like he is having a hard time finding his spots to score. Part of this could be that Deron has missed half of the preseason (despite the preseason's CRITICAL IMPORTANCE) and he relies on Deron so much, but we will see. I don't think Paul is going to have the year that people think he will.
Andrei Kirilenko
- I had a funeral for AK when he was on the verge of being traded but a few short weeks ago. Now zombie AK looks like AK of old. And I couldn't be more thrilled. He looks energetic. His shot looks great. AK is going to have a big year I think. If the Jazz trade this guy mid-season to save money, I will be devastated.
Ronnie Price
- Ronnie is quietly having a great preseason. He is causing havoc on both ends of the floor. He hates the Lakers more than I do. He is good for one "HOLY ****" play a week. He always shows up to play in big games. He has one major problem, which I will get to later.
Kyrylo Fesenko
- FESENKO! He looks awesome. I want him to play. This could be his last year with the team. He only has problem. And it's the same as Ronnie Price's.
Do we really only have this many returning players?
HAPPY TO HAVE YOU
Al Jefferson
-
He says all the right things. He has been dominant offensively during the preseason. His pump fakes and spins are beautiful to watch. He is going to have a monster year. I went through the complete range of emotions
with Al. I never liked his game at Minnesota. He put up the numbers he did because once the ball goes in, it does not go out. I love him now. He has been open to passing the ball and has been scoring with ease. The greatest thing about Al? He doesn't need Deron to score. Boozer was incapable of creating plays for himself or others. As long as you can get the ball in Al's hands he can score. Its going to be different. My main concern, AND IT IS A GREAT ONE, is the playoffs. Al has never made the playoffs and I wonder if he is going to be able to score. As mentioned earlier Al relies heavily on pump fakes to score the ball in the post. In the playoffs, he is going to be heavily scouted and players who will defend him will be coached not to go for any of these fakes and to shade him away from the baseline. I worry he will not be effective in the postseason, which is where we will need him most.
Raja Bell
- One of the times I have been the most bummed in my Jazz fandom was the day I picked up the morning paper to find that the Phoenix Suns offered (and Raja accepted) a contract within minutes of the 2005 free agent period opening. I loved Raja when he was here. We have not had a team badass since he left. He will be useful for many reasons, but chief among them is that Kobe is going to want to score on him. When Kobe shoots a lot, that means Gasol shoots very little. This is a good thing.
Jeremy Evans
- Here is a quote from my Twitter account immediately following the drafting of Jeremy Evans "HAHAHAHAHAHAHAHAH!!!!!!!!". Seriously. That was what I tweeted. I would just like to apologize to Jeremy Evans and the Utah Jazz. I was wrong. Here's to the many alley-oops he will throw down in his Jazz career. The Jazz need to give him a deal identical to the one they gave Paul Millsap when he was a rookie. 1 year guaranteed with team options for year 2 and year 3. I am still bitter that they did not give Wesley Mathews that deal. WHAT IS THE HARM IN NON-GUARANTEED YEARS 2 and 3!??!??!?!? ACK!
A COLD HELLO TO YOU
Gordon Hayward
- Hated the pick when it was made. Still don't love it today. He has struggled to find his shot during the preseason.
He recorded
TOO BIG YO
during spring break ... OF 2010. If you here him talk he thinks he is black. This is never good. Good luck to you Gordon. To quote Principal Skinner: "Prove me wrong kids! PROVE ... ME ... WRONG!"
Earl Watson
- The leading candidate of the Milt Palacio Memorial Award for the guy who plays a lot for a guy who shouldn't be playing on a good team. No offense to Earl. He seems like he has a good feel for the system and defends well. However, he is not a good shooter but shoots too much. The Jazz do this every year. Milt, Jason Hart, Brevin Knight, Howard Eisley (2nd stint), etc. Ronnie Price should be playing the backup PG, but I am convinced it will be Earl. He would be a great 3rd PG, not 2nd.
Francisco Elson
- See above. Again, awesome 11th, 12th guy. However, I just think Fesenko is better. I never thought I would write those words, but I think Fesenko does the most good for us. Again however, I think Jerry is going to give the backup C minutes to Elson. Too bad.
All I know is I am excited for this thing to get going. How excited?
THIS EXCITED!